At Instalaciones Carabantes, we are proud to have a team of highly specialised professionals in the field of design, installation, maintenance and repair of industrial cold rooms. We excel in providing tailor-made solutions in the field of industrial refrigeration and industrial coolers, meticulously adapted to the unique needs of each business.
This type of facility, of vital importance in various industries, is defined as a space specially designed and conditioned to maintain products and goods at optimum temperature and humidity levels. Such an environment ensures the preservation of perishable items, preventing their deterioration and prolonging their useful life.
Industrial cold rooms are noted for their versatility and ability to house a variety of products, from fresh and frozen foods to temperature-sensitive pharmaceuticals. Its design and construction are based on rigorous parameters to ensure precise control of temperature and humidity.
At Instalaciones Carabantes, we are committed to offering cutting-edge and efficient solutions in the field of industrial refrigeration. Our team of experts works tirelessly to ensure that your investment in industrial cold storage is an investment in the freshness, quality and durability of your products.
These cameras are not only for the hospitality sector, restaurants, bars and supermarkets.. In fact, for many years we have been installing customised cold rooms in Malaga for flower shops, laboratories, farms, logistics centres or luxury homes, both in towns on the Costa del Sol such as Marbella, Fuengirola or Mijas Costa, and in inland towns such as Alhaurín, Coín, etc.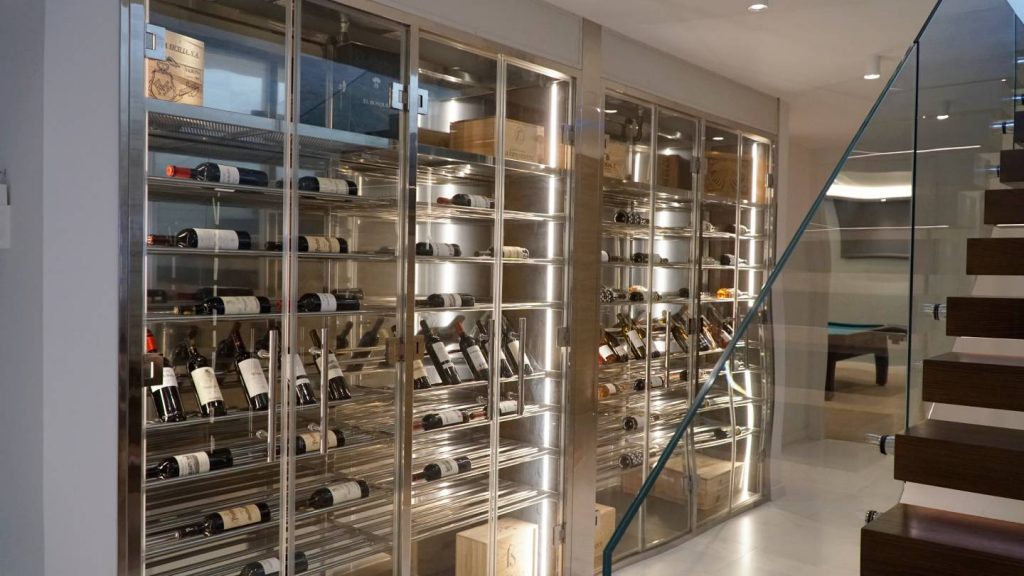 At what temperature is a refrigeration chamber
A refrigeration chamber, also known as a cold room or cold room, represents an essential environment in commercial, industrial and scientific environments. They are intended for the preservation and controlled cooling of various products. These installations have a wide range of applications within these industries and commercial sectors.
For example, cold rooms are ideal for storing fresh produce without freezing, including beverages, fruits, vegetables, dairy products, sausages and meats in establishments such as supermarkets, bakeries, restaurants and hotels.
These chambers can be designed with variable dimensions and adjusted to the available space. These range from more compact options to suit small establishments, to larger units that resemble spaces set up for labour or storage of goods.
The temperature of the refrigeration chambers usually ranges from 0 to 12 degrees Celsius.. This optimal thermal range guarantees the proper preservation of products that require moderate cooling, ensuring their integrity and quality over time. If you need solutions that offer lower temperature ranges, then you need a freezing chamber.
Differences between a refrigeration and a freezing chamber?
The main difference is that the refrigeration chambers do not subject the products to sub-zero temperatures, they are set up in ranges from 0 to 14 degrees Celsius. On the other hand, freezing chambers by definition maintain temperatures below 0ºC, reaching as low as -30ºC.
The second difference lies in their structure, the refrigeration panels that we use in each case usually vary in thickness; being more robust in the freezing chambers, known as negative chambers, in contrast to the conservation or positive chambers.
The third difference is the refrigeration engine or equipment used in each type of chamber. The temperature requirements call for different motors, as well as certain details that are essential for their smooth operation, such as electric heaters in the door frames to prevent ice build-up.
Where can I install the cold room?
A cold room can be installed in various indoor or semi-covered spaces that are protected from rain and direct sunlight. In addition, it is important to consider certain factors for proper installation:
Availability of a nearby drain to drain condensation water.
Access to an electrical socket to connect the refrigeration equipment or engine.
Level and uneven floor surface.
Adequate ventilation to allow for air renewal.
It is advisable to choose a location with low acoustic echo if there are neighbours nearby, although this is not essential as we can create specially designed refrigeration systems to minimise noise if necessary.
By location or sector of activity, these are some examples of where we have installed cold rooms and how they have been used:
Markets and supermarkets: food and beverages.
Fruit and vegetable shops: fruit, vegetables and greengrocers.
Bars and catering: drinks, food, ready meals.
Florists: flowers and plants.
Butchery: meat and sausages.
Fishmonger: fish and seafood.
Bakery and patisserie: bread, pastries, cakes, etc.
Farms: dairy, cheese and eggs.
Logistics centres, laboratories, pharmaceuticals and the chemical industry.
Ice cream parlour: ice cream and derivatives.
Private households: food, wine and other beverages.
Installation, maintenance and repair in Malaga
If you are looking for solutions in the field of cold rooms, we are at your disposal to provide you with a complete range of services including installation, maintenance and repair. Our experience is focused on the implementation of approved installations of cold rooms and industrial refrigeration systems, backed by the leading brands in the industry.
If you are considering the modernisation of your facilities, we offer you our expertise to optimise various types of configurations in order to increase both productivity and energy efficiency.
Our commitment to excellence is not only limited to the installation and maintenance stage, but extends to the area of rapid response to any failure or inconvenience. We are aware of the vital importance of the preservation of perishable goods, which drives us to provide effective and fast solutions at all times.