Any business needs to have a comfortable indoor environment, both for its customers and to maintain good production. If you don't want customers to run away from your business, or think twice before coming back, you need a solution like the air curtains we install at the entrance of businesses.
Frequent coming and going, or having to keep the shop door open makes it difficult to maintain a stable temperature. Having the air conditioning running all the time is not the best option either because it drives up energy costs.
We have all experienced that uncomfortable moment when a blast of hot or cold air hits us as we enter or leave a business. In addition to discomfort, these draughts can adversely affect the indoor temperature, cause discomfort to customers and ultimately increase heating and cooling costs.
This is especially problematic in climates like Malaga, where in summer it is very hot and then in January and February it is freezing cold. With the current cost of energy it is essential to look for efficient solutions. We have good news for you, air curtains can be your best ally to maintain a stable temperature inside your premises and avoid high electricity costs.
How an air curtain works
An air curtain is a device designed to create an invisible air barrier at the entrance of a building or business. Like an invisible door formed by a constant current of air. Its purpose is to control the indoor temperature, prevent the entry of insects, dust and odours from outside, and improve energy efficiency – what more could you ask for?
The operation of an air curtain involves the expulsion of an airflow through a fan or blower system. This airflow can be projected downwards, upwards or towards the centre from the sides. This creates a kind of invisible air curtain that separates the inside from the outside.
To maximise the efficiency of this ventilation system, it is possible to adjust both the air discharge and the air outlet louvres to suit the specific conditions.
Air curtains equipped with heating systems incorporate an electric coil to heat or cool the air stream. This ensures that people do not feel uncomfortable cold draughts when they walk through the door and maintains the right temperature in the entrance area.
Benefits of air curtains for your business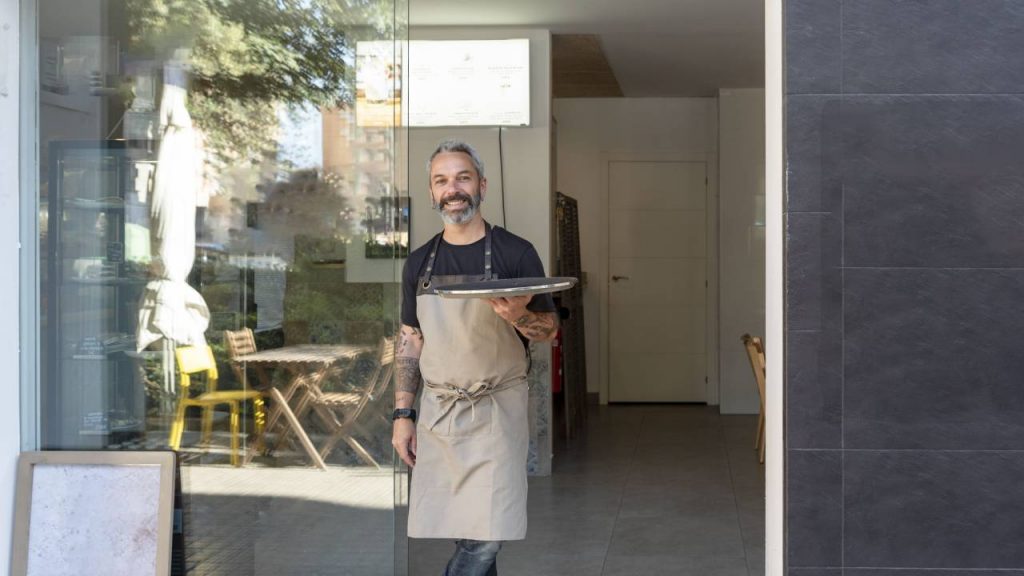 This simple technology helps maintain a constant indoor temperature, prevents the ingress of hot or cold draughts, and reduces heat or cold loss, which can result in significant savings in heating or cooling costs.
In our experience, air curtains are an ideal solution for places such as: shops, restaurants, supermarkets, hospitals and other commercial buildings. The typical place where you need to maintain a comfortable and clean indoor environment, while allowing the constant flow of people and goods through the doors.
Such devices are also common in the industrial sector. For example in the food industry to keep production areas free of contamination, insects and to maintain hygiene. If installed in cold chambers, they reduce fog formation, keep the entrance dry and free of ice on the floor.
As you can see, these ingenious innovations can solve the problem of unwanted draughts in businesses. Instalaciones Carabantes is an installation company in Malaga with many years of experience. Call us to answer any questions or get a personalised quote for the installation of a state-of-the-art air curtain.
Frequently asked questions about the air curtain
How much does an air curtain spend?
The energy consumption of an air curtain varies according to the size and power of the equipment. Some air curtains have a consumption similar to that of a high-performance light bulb, while others can be more powerful and consume a similar amount of energy as several hairdryers.
Are air curtains effective?
Yes, air curtains are effective. Studies and tests have shown that when installed correctly, these curtains save energy and keep the entrance environment as comfortable as the rest of the space. They also prevent draughts, insects and unwanted odours.